本田望 –
北朝鮮との軍事衝突の危機が高まるなか、米国のトランプ大統領は北朝鮮との交渉はむだだといい、安倍晋三首相はさらにかえって逆効果だと強く主張しています。しかしながら、彼らはその主張の実の根拠を示していないようです。
Amid rising tensions between the US and North Korea, President Donald Trump insists that negotiation with North Korea is useless, and Prime Minister Shinzo Abe is certain that more talk would only make things worse, but they don't offer any proof.
米国のドナルド・トランプ大統領は10月8日、「以前の合意は署名のインクが乾く前に破られた。(北朝鮮との交渉は)実を結ばない。外交の座についた米国に恥をかかせた。悪いが解決策はたった一つだ!」とツイートしました。
安倍晋三首相も同様に9月17日付でニューヨークタイムズ紙に寄稿し、北朝鮮はこれまでも約束をほごにしてきたので交渉はかえって逆効果、「ミサイル発射や核実験をしたから、諸外国は対話を求めてきた」と受け取りかねないと警告し、国際社会が連帯して北朝鮮への圧力を最大限に強めるべき時だと主張しました。
On October 10, Mr. Trump tweeted "…hasn't worked, agreements violated before the ink was dry, making fools of U.S. negotiators. Sorry, but only one thing will work!"
And Mr. Abe called on the international community to exert utmost pressure in an article posted on September 17 in the New York Times: "Considering this history and its continuing missile launches and nuclear tests, more dialogue with North Korea would be a dead end. Pyongyang would see more talks as proof that other countries succumbed to the success of its missile launches and nuclear tests. Now is the time to exert the utmost pressure on the North. There should be no more delays."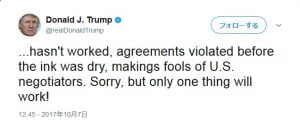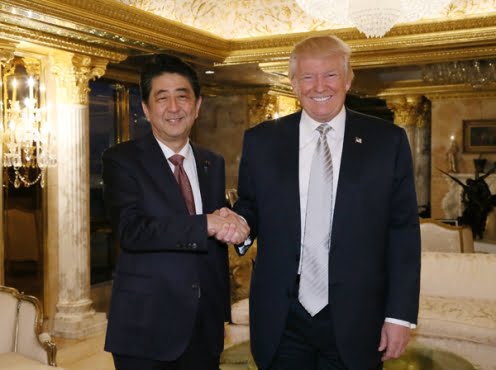 トランプ、オバマ政権が北朝鮮核兵器開発停止の申し出を即座に却下!
日本のメディアはもちろん、英語のメディアでもほとんど報じられてませんが実は2017年3月、米韓が近隣で行う軍事訓練を辞めれば北朝鮮に核兵器開発を辞めさせるという、中国によるオファーをトランプ政権は拒絶していました。
The English news media rarely mention this, and even more so with the Japanese news media; in March 2017, China offered negotiations if the US and South Korea would stop military training in the region, it would stop North Korea's nuclear weapon program. But the Trump administration rejected it.
http://www.telegraph.co.uk/news/2017/03/09/us-rejects-chinas-plan-north-korea-weapons-halt/amp/
(英テレグラフ紙 2017年3月9日付)
同じくオバマ政権も2016年4月24日、ドイツのメルケル首相との共同記者会見の場で核兵器テストを中止するという北朝鮮からのオファー拒絶を表明していました。
And on April 24, 2016, Obama also rejected a similar negotiation offer, this time from North Korea, at a news conference with the German chancellor, Angela Merkel.
https://www.theguardian.com/world/2016/apr/24/obama-response-north-korea-nuclear-tests-deal
(英ガーディアン紙 2016年4月24日付)
過去25年間のデータでは交渉で北朝鮮側の挑発は減少
一方米シンクタンクCSISは過去25年間のデータから、北朝鮮は米国と交渉を行うと挑発を抑える傾向があることを明らかにしました。
On the other hand, a US think tank, CSIS, has published a report studying the nearly 25 year history of negotiations with North Korea, and their findings indicate that when the US is at the negotiation table, DPRK provocations decrease.
https://beyondparallel.csis.org/25-years-of-negotiations-provocations/
また1994年の合意の枠組みを破ったのは北朝鮮であるという旨のトランプ大統領や安倍首相、志位和夫委員長の発言、その他の報道がありますが、それらのほとんどが米国側の責任についてはいっさい述べてないようです。
President Trump, Prime Minister Abe, the news media, and even JCP chief Kazuo Shii say North Korea has violated agreements, seeming to emphasize especially the 1994 agreement, but oddly, they do not seem to mention the US and the allies' responsibilities at all.
1994年合意の破綻は米国側にも責任がある
1994年の合意では、北朝鮮は5MWe原子炉を停止、視察を受け入れ、より大きな2つの原子炉の建設を中止しましたが、米国側は約束した年毎50万トンの重油をほとんどスケジュール通りに送りませんでした。また日本と韓国も商業用軽水炉建設のために約束した資金を提供しませんでした。
北朝鮮はウランを濃縮する技術をパキスタンなどから入手しましたが、それは合意で禁じられたものではありませんでした。また視察下で燃料再処理や原子炉再稼動もせず、1991年から2003年まで核分裂性の物質をいっさい造らなかったとのことです。
North Korea shut down its 5 MWe under inspectors' watchful eyes, and also stopped construction of two much larger reactors. But the US seldom delivered the promised heavy fuel oil on schedule. Moreover, Japan and South Korea were supposed to pay for the construction of commercial light-water reactors; they didn't.
Many blame North Korea for enriching uranium, the means obtained from Pakistan and the others, but that was not what the agreement prohibited. The North made no attempt to reprocess the spent fuel stored under inspection at Yongbyon or to restart its reactor and made no fissile material whatsoever from 1991 to 2003.
http://www.38north.org/2017/08/lsigal082217/
(38ノース 2017年8月22日付)
https://www.thenation.com/article/diplomacy-with-north-korea-has-worked-before-and-can-work-again/
(米ネイション誌 2017年9月5日付)
http://www.slate.com/articles/news_and_politics/war_stories/2017/10/it_is_possible_to_negotiate_with_north_korea_bill_clinton_did_it.html
(スレート誌 2017年10月10日付)
「戦争狂」ウイリアム・ペリー元国防長官も交渉を成功させた
クリントン政権で国防長官を務めたウイリアム・ペリー氏は当時の対北朝鮮外交を振り返り、北朝鮮から呼ばわりされつつ交渉の場に臨んでみたら厚遇してくれた。トランプ政権も敵対心むき出しの言葉の応酬に乗らずに交渉すべきであると、10月3日付けの米政治メディア、ポリティコへの寄稿で述べました。
William Perry, the defense secretary of the Clinton administration has looked back to the time he was negotiating with North Korea, and stated that even though North Korea called him a "war maniac", he attended the negotiations, and received great respect from North Korea. So President Trump should stop buying into the war of words and start negotiating, according to the article Perry wrote for Politico, which was published on October 3 of this year.
http://www.politico.com/magazine/story/2017/10/03/north-korea-war-maniac-donald-trump-215672
10人のノーベル平和賞受賞者が国連に米・北朝鮮の対話実現を要請
10月11日、10人のノーベル平和賞受賞者が国連事務総長宛に、米国と北朝鮮の平和裏な対話を求めるとの手紙を提出しました。
On October 11, ten Nobel Peace Prize laureates sent a joint letter to the United Nations Secretary General, calling for peaceful dialogue between the US and North Korea.
https://nobelwomensinitiative.org/nobel-laureates-call-peaceful-dialogue-united-states-north-korea/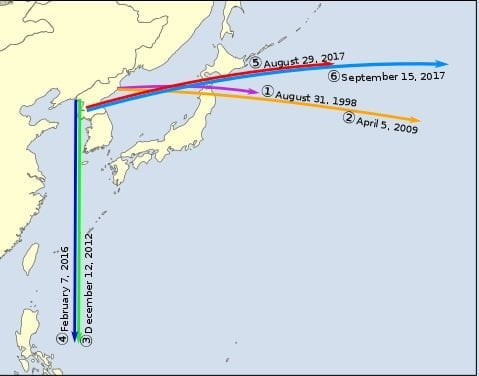 北の核攻撃で想定される死者数は40~200万人、そんな事態は絶対に避けなくてはならない
前述のトランプ大統領のツイートで米国は北朝鮮との外交努力を放棄したかに見えましたが、レックス・ティラーソン国務長官は、10月15日CNNのインタビューで最初の爆弾が落ちるまで外交を続けると明言しました。そうであってほしいと思います。同時に、外交努力が実を結ぶためには、やはり、大統領や首相、さらには大手メディアも間違った発言や報道を行った際にはそれをまず認め、対話をするに値する国であることを示す必要があるのではないでしょうか。
On October 15, US Secretary of State Rex Tillerson appeared on CNN and said that US diplomatic efforts "will continue until the first bomb drops". That is a lot better than what President Trump has tweeted, but in order for negotiations to be successful, the president, the prime minister, and also big corporate media must acknowledge if what they said or reported was wrong, to show that we are the countries worthy of receiving North Korea's diplomatic efforts.
ジョンズ・ホプキンス大学高等国際問題研究大学院の北朝鮮監視プロジェクト「38ノース」が、北朝鮮の最新の攻撃能力を考慮して作成したリポートによると、東京とソウルが核攻撃された場合に想定される死者数は40~200万、最大で380万に上る可能性があります。
38 North, which is a project of The US-Korea Institute at Johns Hopkins School of Advanced International Studies, has issued a report taking the North's technologies into consideration, noting multiple nuclear weapon detonations on both Seoul and Tokyo based on the current North Korea yield estimates would result in anywhere from 400,000 to 2 million deaths, possibly even as much as 3.8 million, depending on the thermonuclear yield.
http://www.38north.org/2017/10/mzagurek100417/(A Hypothetical Nuclear Attack on Seoul and Tokyo: The Human Cost of War on the Korean Peninsula, 38 North)
こうした事態は絶対に防がなくてはなりません。
We definitely must avoid that tragedy.